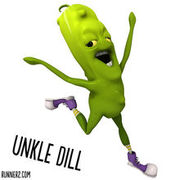 Unkle Dill is a new character who debuts in Runner2: Future Legend of Rhythm Alien. He resembles a pickle with eyes, a mouth, and limbs. Unkle Dill is supposedly the mascot or founder of "Unkle Dill's Dills," a pickle company. He can be unlocked by beating one of the bonus stages in The Welkin Wonderland. He functions the same as CommanderVideo and has costumes, but his deflection paddle is purple. He appears in front of checkpoints in The Welkin Wonderland, walking around and possibly dancing.
Ad blocker interference detected!
Wikia is a free-to-use site that makes money from advertising. We have a modified experience for viewers using ad blockers

Wikia is not accessible if you've made further modifications. Remove the custom ad blocker rule(s) and the page will load as expected.